December

2017

Sun
Mon
Tue
Wed
Thu
Fri
Sat

3

Advent Week #1

Hanging of the Green…

Executive Meeting

• • •

17

Advent Week #3

Christmas Program

• •

24

Advent Week #4

Christmas Eve Servic…

• •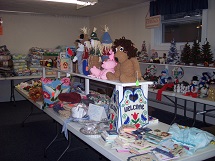 53rd Annual Bazaar and Bake Sale
Rock Run Church held its 53rd Annual Bazaar and Bake Sale on Saturday, October 28, 2017 from 8:30 a.m. – 1:00 p.m. at the church.  Items for sale included homemade baked goods, noodles, comforters, and crafts. Also available was a cookie walk and children's grab bag.  A breakfast and lunch bar featured homemade cinnamon rolls, sandwiches, soups, and pie.  All proceeds will benefit local charities.  Thanks to everyone who helped make the bazaar a big success again in 2017!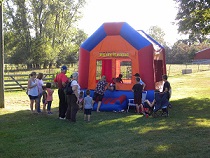 2017 Rock Run Fall Party
September 24th was a beautiful, warm, sunny day that found 116 people enjoying the wonderful weather, food, games, and fellowship at the annual Fall Party at the Williams' Home.  Children played in the bounce house, threw bags for corn hole, ran down the barn bank and jumped on a bag filled with foam, and rode on a hayride.
Everyone got their fill of food as 116 hot dogs, 21 gallons of cold drinks, less than 1/2 gallon of hot cider, dozens of cookies, chips, veggies, and 2 pans of cheesy potatoes were consumed.  Thanks to all who brought food and games.  Thanks to the youth who helped with the bounce house and to those who donated toward the bounce house.  Thank you to Ruth Smith for watching over the food and Dale & Ruby Leer for cooking the chili and watching the camp fire.  A big thanks to Dave & Jean Williams for providing a place for everyone to have fun.